Living in WGC - Evidence for BioPark Inquiry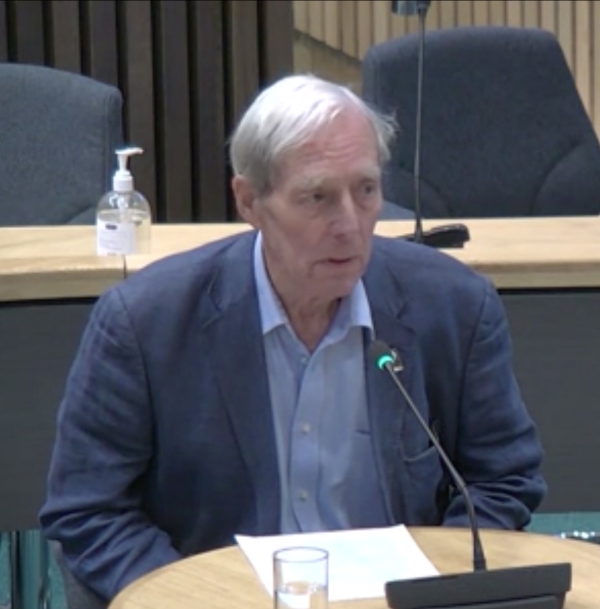 On day 5 of the BioPark Public Inquiry Tony Skottowe gave evidence on the experience of living in WGC. He introduced himself to the Inquiry as Chair of the WGC Heritage Trust and a resident of the town for nearly 50 years.
Tony reminded the Inquiry that ultimately this is not about the semantics of planning policy but about a town and its people and the legacy that will be left for future generations.
"A sense of place is difficult to quantify but Welwyn Garden City does have a unique one. The relationship that exists between the Town and its people is not easy to define and has emerged because of the way the town was planned – based on one man's principles to create a place where all of its residents can experience a sense of health and well-being. De Soissons interpreted Howard's ideals in a way that was not architecturally brash, overbearing and complicated, but with subtlety and finesse. We may take our surroundings for granted but there is a deep affection for this town amongst its residents. But this sense of place is fragile and can easily be overwhelmed by unsuitable development.
The more you learn about this town and its history, the more you realise its special importance and its seminal place in town planning. From the outset it was carefully planned to a unique design. It didn't just grow haphazardly with bits added on at random. The heartfelt vision of Ebenezer Howard has been brilliantly interpreted by Louis de Soissons. A key factor in this is the landscaping. de Soissons' clever use of trees and green space is unsurpassed in an urban setting. It provides cohesion to the whole town and beautifully illustrates Howard's key principle of the marriage of Town and Country. Each new development adds to the whole. Therefore, each new development does need to embrace the Garden City Principles – the creation of beautiful homes with gardens and landscaping – a placed that is fully integrated and connected to the whole. The alternative would be that new development within the Garden City ignores these principles and the Garden City is gradually eroded and its integrity is undermined.
As Susan Parham has already explained there are only two true garden cities, Letchworth and Welwyn Garden City. Their importance is demonstrated by their being considered for UNESCO World Heritage status. They attract visitors from throughout the world, many of whom have been guided around this town by the WGC Heritage Trust. They come to see and to learn from a unique example of town planning which is still relevant today. We have included letters of support from leading foreign academics in our evidence. Even Stephen Levrant mentioned the effects Welwyn Garden City has had on suburban development.
To repeat the quote in my Proof of Evidence from Ellis and Locke 2020; Howard's ideas are not a hindrance to development but a solution to today's issues.
Surely this heritage is worthy of protection.
Welwyn Garden City was designed with the needs of its community in mind. Not just social activities, which have always been numerous, but health and well-being. In creating this town much emphasis was placed on green open spaces giving its residents room to breathe. This is something still of vital importance to everyone.
Reference has been made during this Inquiry to the East/West divide or 'the wrong side of the tracks', as if the town is a thing of two distinct halves. As a resident I can honestly say that since the post war growth throughout the town this so-called division is not a feature. Most residents drive over Hunters Bridge without giving it a thought. Indeed two areas on the East side are now conservation areas.
Broadwater Road has always been accepted by residents as an area for industry with consequently different architecture. The Biopark is not a hated building but has always been accepted by residents as part of the industrial landscape, just like the Shredded Wheat Silos – we understand its function and purpose of providing employment. A residential development is looked at with completely different criteria and is viewed from a different perspective and on the basis of whether it adds or takes away from the garden city ethos of the residential context.
We are not against development on the Biopark site, far from it. We just want to see a development of a size and style that is worthy of our unique garden city.
Finally I think my good friend Malcolm Cowan brought this out in his opening speech. Local people are appalled by this application and the reason why is simple – they have lived here seeing good design, good architecture and good landscaping every day of the week, whether looking out of their windows, walking or driving down the road or most notably in the town centre – a town renowned worldwide for its forward-looking ethos. All of these aspects are missing from this application."